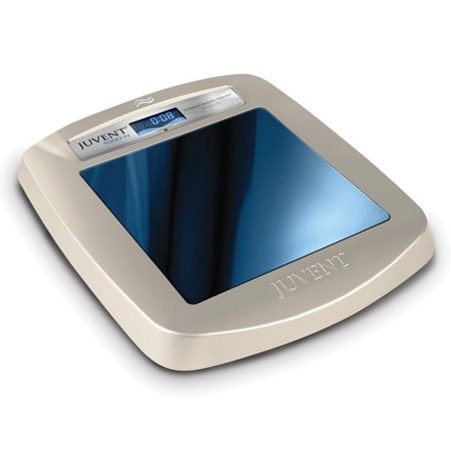 The Juvent Micro-Impact Platform® has been shown to promote bone health, speed recovery, relieve pain, and enhance your strength.
• Calibrates frequency to your body's unique composition (20+ patents)
• Safe and effective. 32Hz-37Hz, at only 0.3-0.4g's of energy.
• Up to 280lbs weight limit
• Warm-up before workouts and recover faster
• Promotes balance and stability, enhancing an athlete's strength
• Feel more energized to get the most from your workouts Juvent delivers clinically validated solutions to improve musculoskeletal health.
The patented Micro-Impact Platform® has clinically demonstrated the ability to help users manage their osteoporosis and improve bone health non-invasively. Additionally, this technology helps users decrease joint pain and increase lymphatic drainage. Juvent's Micro-Impact is an essential ingredient for total health and vitality; a Vitamin of Exercise! It is postulated that this intervention recruits bone marrow stem cells in addition to having metabolic and immunologic effects. In humans, low magnitude acceleration is applied through the feet, by standing on a platform oscillating at relatively high frequency.
Calibrated Micro-Impacts for Safety
Unlike competitor's whole body vibration (WBV) "shaker" platforms, the Juvent Micro-Impact Platform® operates at a very low magnitude (less than 0.3G) and gentle, soothing frequency between 32 and 37 Hz, depending on your body composition. Juvent's patented technology adjusts to your body's particular composition, finding the ideal frequency. This discreet range makes Juvent safe. Juvent's level of energy and frequencies fall safely under OSHA's (Occupational Safety and Health Administration) and ISO's (Int'l Organization for Standardization) guidelines. This is NOT true of most whole body vibration platforms (WBV).
Learn more about Juvent here: Juvent Health
Recommended by the FLCCC Alliance in the I-RECOVER: Post Vaccine Treatment Protocol along with our Clinic's additional therapy of Pulsed Electromagnetic Field Therapy. I-RECOVER: Post-Vaccine Treatment – FLCCC | Front Line COVID-19 Critical Care Alliance (covid19criticalcare.com)